The Launchpad List allows you to monitor all Launchpads in your organization from a single page.

Filter Launchpads
Use the filter bar to filter the Launchpad list by name or by attributes:

Organize
You may click "Organize" to create folders for your Launchpads, or move Launchpads between folders.
Import
If you use Launchpad Attributes, you may import a CSV file to populate these attributes. The first row is for column headers. You must include a column named "LP name". Other column headers should match names of your Attributes. Unrecognized columns will be ignored.
The import dialog offers a template to download to save you time.
Download Launchpad Software
Next to the filter is an indication whether Launchpad Automatic Upgrades is enabled or disabled. You may control this setting in Admin > Launchpads. Below this are links to download the latest Launchpad executables for Mac and Windows. For more information, refer to Install & Register Launchpads.
Launchpad Actions
To perform a command on one or more Launchpads, you may use the checkboxes next to each Launchpad in the list, and the Launchpad Actions menu.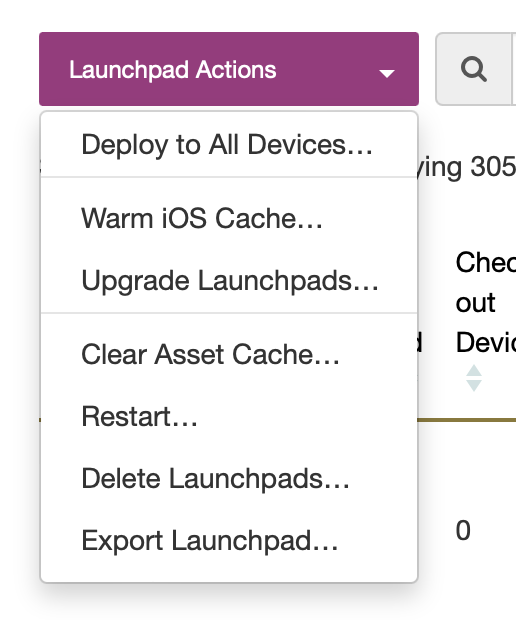 | | |
| --- | --- |
| Deploy to All Devices | Choose a workflow and deploy to all devices connected to all selected Launchpads. |
| Warm iOS Cache | Perform a check to make sure all Apple IPSW files have been downloaded to the Launchpad's local asset cache. The Launchpad examines the list of device models that have connected in the last 30 days to determine which IPSW files to download. This feature is performed automatically if iOS Update Delay is enabled. |
| Upgrade Launchpads | Upgrade the Launchpad software to the latest version available. This is command is useful if Automatic Launchpad Upgrades is disabled. Launchpads that are currently connected will upgrade as soon as all running deployments have completed. Launchpads that are offline will be upgraded when they next connect. |
| Clear Asset Cache | Delete all files from the Launchpad's local asset cache. |
| Restart | Attempt to restart the Launchpad app on the selected Mac or Windows PCs. You may choose to wait until all running deployments have finished, or choose to immediately restart. |
| Delete Launchpads | Remove the Launchpad(s) from the Launchpad List and force the Launchpad application to unregister. |
| Export Launchpads | Export a CSV file listing helpful Launchpad data, including Name, Version, Platform, IP, Launchpad Attributes, MobileDevice version and more. |
Launchpad List
Several columns are displayed for the Launchpad list.
Launchpad Name, set by you when registering or changed in Launchpad Options
Connected Devices
Checked Out Devices, if Checkout is enabled
count of Connected Smart Hubs
Launchpad Version
MobileDevice Version
Last Seen, or "Connected" if currently online
Attributes — any values for custom Launchpad Attributes, if applicable
Click on any Launchpad row to see Launchpad Details.