High-volume Wipe and Test for Device Resale
GroundControl Renew is a cloud-hosted system designed to accelerate high-volume refurbishment operations. Renew securely erases data from multiple iPhones and iPads with speed and accuracy, tracking inventory while performing tests on activation and battery.
With GroundControl Renew, it's easy to increase your productivity without increasing your workforce.
"Very cool product! We use it in my facility for clearing data from iPads daily. It saves a lot of time & human error. If we did not have GC, it would be a manual process."

Elizabeth, Philadelphia
"Really good at keeping up with Apple's technology changes."

Nate, U.K.
How it Works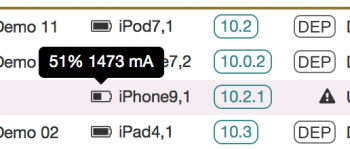 Install the lightweight GroundControl Launchpad app on your Macs or Windows PCs. No configuration is required.
Technicians open the app and begin connecting devices to USB hubs. Renew will check for activation locks and IMEI blacklists, then immediately erase, reset, and restore each phone to factory defaults. Multiple phones are processed in parallel, with no buttons to press and no start delay, and phones can be added at any time. Renew can then prepare devices for functional testing, skipping the setup screens, setting wifi, and testing activation.
Your technicians don't need to interact with GroundControl, saving time, maximizing workflow, and eliminating chances of human error.
Features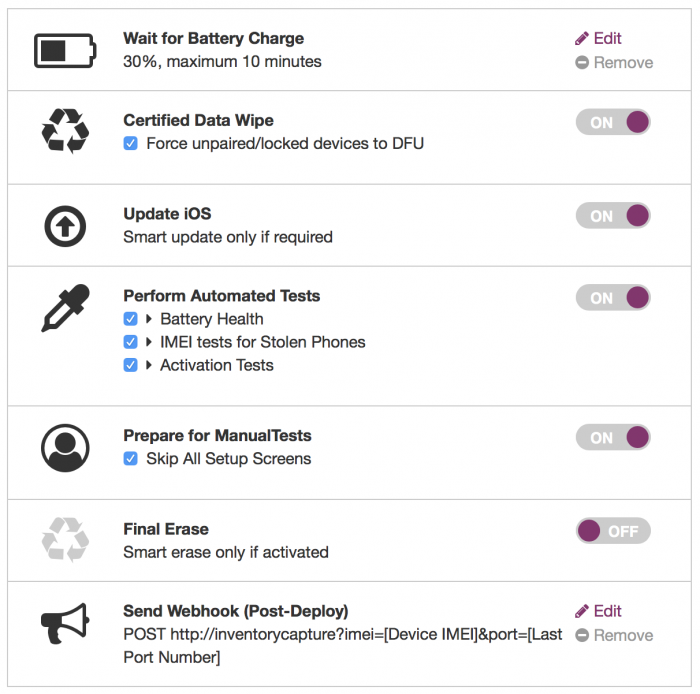 We've solved many of the issues that have historically slowed down iPhone refurbs:
Handles 32+ devices per station with ease
Immediately catch Apple ID locking and MDM (DEP) locking, even if the devices are enrolled but not assigned
Automated IMEI Blacklist checking using CTIA / stolenphonechecker.org
Automatically monitor device battery health and level, and fail if the battery isn't properly charging
Record all device identifiers on our web console for easy export and audits
Insulate yourself from changes to iOS 10, 11, …; our engineers work hard on compatibility so you don't need to.
Locally cache Apple's iOS updates for super quick installation, with background downloads that won't interrupt your operations
Built-in API to push data to in-house systems, print labels, etc.
USB hardware integration to display port number and charging rate for select equipment
Lightweight app for Mac and Windows PC, no Linux needed
Superb technical support, always eager for new ideas and improvements
Hyperspeed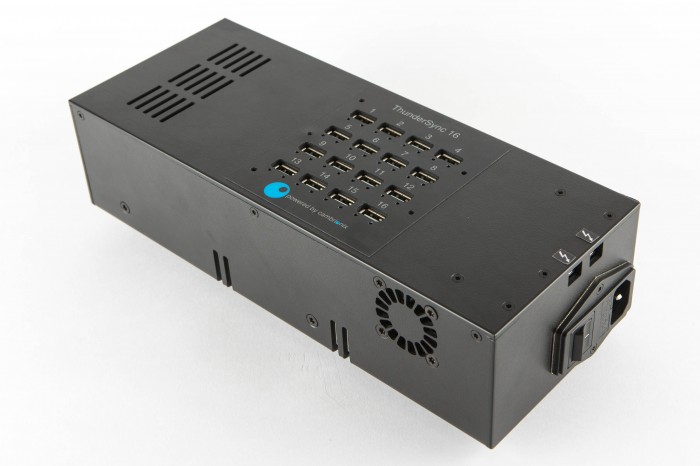 When paired with an industrial-strength Cambrionix ThunderSync hub, your technicians will be more than 10x quicker than USB. GroundControl Renew automatically detects the ThunderSync hub and uses the Cambrionix APIs to report USB port# and device charging rate.
Security
GroundControl's performs a cryptographic erase, identical to "Erase all Content and Settings." This process destroys all of the encryption keys in effaceable storage, rendering all user data on the device cryptographically inaccessible.
GroundControl's erase conforms to the following industry standards:
All device operations are logged to the GroundControl cloud management console. If you need to audit your operations, a detailed record of every device is just a click away.
                  
Connect to GroundControl
Request a demo, obtain an evaluation license, or to speak with someone.